Theme: Anesthesia: Enduring operation of life
Critical Care 2020
Encouraged with the success of Anesthesiology series of conferences, we bring up the 13th International Conference on Anesthesiology and Critical Care. With its powerful 2 day agenda Critical Care 2020 is designed to take place once again at the beautiful Turkey in the Istanbul city during June 12 and June 13, 2020 include prompt Keynote presentations, Oral talks, Workshops/Special Sessions, Poster presentations, and Exhibitions.
Critical Care 2020 aims at proclaiming knowledge and sharing new ideas among the professionals, industrialists, researchers, and students from the research area of anesthesia, intensive care medicine, critical emergency medicine, and pain medicine. This scientific gathering guarantees that offering the thoughts and ideas will enable and secure you the theme "Paving the Path for Quality Anesthesiologists Connections"
This conference is about the medical specialties concerned with the total perioperative care of patients before, during and after surgery. This conference will establish a global platform to find out current trends and recent advancements in the field of critical anesthesia and anesthesia awareness. This conference gathers all the information about medical techniques, are discussed by key note speakers of worldwide famous professional surgeons, researchers, professors. This conference will be share new ideas in treatment and advance techniques in anesthesia. It has a far research recent session that expresses the present issues in the huge fields of Anesthesia. The previous surgeries will be discussed, comparatively that may achieve improvement in the treatment.
Target Audience:
Anesthesiologists
Emergency physicians
Pulmonologists
Trauma coordinators
Thoracic surgeons
Cardiologists
Respiratory oncologists
Radiologists
General surgeons
Surgical residents
Trauma nurses
Medical companies
Physicians
Scientists
Professors
Medical students
Researchers
Its main objective is to deliver teaching in trauma management and patient care. The primary activity is teaching medical practitioners and other emergency services personnel in the management of trauma and pre-hospital care. It is a state of controlled, temporary loss of sensation or awareness that is induced for medical purposes. Proper care of the severely injured patient will require the development of a new anesthesia specialist. The trauma anesthesiologist, like cardiovascular. Trauma anesthesia management is a challenge because we must deal with a critical ill patient with unclear history, injuries and physiologic status.
It is also a part of anesthesiology which deals with the improvement of life who is suffering with chronic pain. Pain management programs can employ massage therapy, analgesic medications, physical therapy, and epidural steroid injections, among others to treat pain. This medicine helps to treats distressing symptoms such as pain to relieve suffering during treatment, healing, and dying. Medical practitioners, pharmacists, clinical psychologists, clinical psychologists, occupational therapists, physician assistants, nurses, are the team of pain management whenever the requirement in emergency cases
A critical appraisal self-study program is two versions, the self-study program of the emergency medicine & acute care. It is a branch of medicine concerned with prompt diagnosis, evaluation and treatment of life-threatening medical situations. This service is provided by Emergency Physicians & Nurses who have been specially trained to handle emergency medical conditions in the shortest period of time. It is the medical specialty concerned with the care of illnesses or injuries requiring immediate medical attention.
Acute Care: It is a branch of secondary health care where a patient receives active medicine is that part of internal medicine concerned with the immediate and early. It provides emergency services and general medicine and surgical treatment for rather injury patient.
It is also called as outpatient surgery. It given to a patient in an ambulatory or outpatient surgery facility short-acting anesthetic drugs and specialized anesthetic techniques as well as care specifically focused on your needs are used to make your experience safe and pleasant. These skills are distinctly different from the traditional model of inpatient evaluation. In these does not require to stay overnight in the hospital. Outpatient surgery may occur in an inpatient facility, in a self-contained unit within a hospital, in a freestanding self-contained unit also known as an ambulatory surgery center, or in a physician's office-based unit
In the dental anesthesiology that deals with the advanced use of anesthesia, sedation and pain management to facilitate dental procedures. It is a field of anesthesia that deals with the dental medical procedures is dental anesthesia, local anesthetics, sedation, and general anesthesia. With most local anesthetics, your tooth will be numb for 2-3 hours, while your lips and tongue will be numb for 3-5 hours after the time of injection. As the blood flow carries away the anesthetic from the injection site to be metabolized or broken down, the numb feeling will gradually fade away.
Pediatric anesthesia has become an increasingly important aspect of anesthesiology generally and of pediatric surgery specifically. Recent advances in pediatric surgery make it mandatory that anesthesiologists, pediatricians and surgeons carefully assess the anesthetic agents and technics which will be most effective in infants and children. This is a peer-reviewed scientific research on the use of anesthetics in children. A pediatric anesthesiologist fully trained anesthesiologist who has completed at least 1 year of specialized training in anesthesia care.
This can be defined as anesthesia induced during surgery to avoid pain and discomfort, loss of consciousness is a temporary and reversible. The major role of an anesthesiologist during the surgery includes administer proper anesthesia for the patient during surgical or medical procedures, monitor patient sedation status during procedure, implementation of post-operative pain-management medication.
Palliative care is the specialized in the caring of people in serious illness positions. This type care is providing relief the symptoms and pain of illness. The main aim of these caring is to improve the quality and living hope on life for both patient and their family. This care is taken by the specially trained team of doctors, nurses, and other specialists who work together with the patient to extreme layer to support; this is based on the needs of the patient, not on the patient's chronic illness. By the help of curative treatment can able to cure any age and any stage patients.
This are like acute stroke, status epileptic, subarachnoid hemorrhage, neuromuscular weakness, and spinal cord injury affect millions of Americans yearly. Symptoms such as facial droop, unilateral weakness or numbness, aphasia, gaze deviation, and unsteadiness of gait may be seen.Emergency departments (EDs) are the typical initial contact for seriously ill and injured patients. It is defined as a condition that is life-threatening or in which a patient is faced with poor functional recovery unless treated promptly.
It is a type of lung infection that occurs in people who are on mechanical ventilation breathing machines in hospitals. VPA typically affects critically ill persons that are in an intensive care unit (ICU). It major cause increased illness and death rate. Persons with VAP may have 20–30% death rate. The VAP varies among hospitals and providers which are more on lungs, chest. The most important signs are fever or low body temperature, new purulent sputum, and hypoxemia decrease amounts of oxygen in the blood
Airway management is a crucial skill for the clinical anesthesiologist. It is an integral part of general anesthesia, allowing ventilation and oxygenation as well as a mode for anesthetic gas delivery. Major complications of airway management in the operating room are very rare but may be life threatening is a challenging procedure and is frequently associated with life threatening complications. The incidence of difficult intubations range from 10% to 22%, depending on the setting and the patients in need of endotracheal intubation.
The medication is initiated in airway complement, labor analgesia, fiber optics, ocular surgery. Advancements and innovations in anesthesia have vastly improved the quality of life of patients. The advanced techniques used are ultrasound, video laryngoscope devices, modified nasal trumpet for airway management, raman spectroscopy, and automated delivery of oxygen and anesthetic drugs, non-injectable arterial connector. Future technologies and researchers will follow two major principles: Automation and analytics.
Nano Anesthesia
Electroconvulsive Therapy
Computed Tomography
Patient Monitored Anesthesia
Anesthesiologists work in a complex work environment, quality technology is necessary to provide safe care to patients. The machine manufacturers have been continuously introducing newer technologies that support patient safety as well as helps in the optimization of Anesthesia delivery and reduction of anesthesia gas wastage.
Automated Medication Delivery Systems
Anesthesia Information Management system
Clinical Decision Support System
Bispectral index (BIS) monitor
Electroencephalographic depth of Anesthesia monitoring
Bedside ultrasonography
Advanced neuromuscular transmission monitoring systems
Anesthetic monitoring
Recent advances in Anesthesia technology
Anesthesia devices are most commonly used to safe control on patients and also may contributes to morbidity and mortality. This may lead to extensive use of pre-operative checklist. The tools, machines, and medical devices which are used to generate and mix the fresh gas inhalational to improve the medical technologies. The main use of anesthesia equipment's is to deliver the oxygen gas to the required patient who is unable to take the oxygen. The second main purpose is to maintain the positive pressure ventilation.
These are some devices used:
The respirator bag valve mask.
Anesthesia machine.
Oxygen mask.
Laryngoscope.
Tracheostomy tube.
Tuohy needle.
Flexible Endoscope.
Syringe.
There are many medication and drugs can be used intravenously to manufacture anesthesia or sedation medicine. The drug of anesthesia is commonly used when the surgical operation of critical areas of body to numb sensation during operation. This prevents the pain & discomfort and enables to give medication during operation. Every anesthesia drug gives unconsciousness till some certain time according to the dosage taken.
The below list are most commonly used drugs in present:
Rbiturates
Amobarbita (Amytal)
Methohexital ( Brevital)
Thiamylal (Surital)
Thiopental ( Penthothal, referred to as thiopentone in the UK)
Benzodiazepines
Diazepam
Lorazepam
Midazolam
Etomidate
Ketamine
Propofol
The computer assisted surgery is the concepts of the surgeries and set of methods of surgeries, that are usually made by computer technology for surgical planning, and for guiding or performing surgical interventions. These are generally in the form of programming coding. These guidelines may help to develop the robotic surgeries. This term may use to correlate the actions of surgeons and a surgical robot. A surgical robot is a mechanical device which is controlled by the help of computer.
Anesthesiology case reports itself on the timely report on anesthesiology and provides a wide range of pain research scope. The journal covers most of the key aspects in anesthesiology, which includes the relevance of anesthetic drug administration, several issues on anesthetic practice, pharmacokinetics of anesthetic drugs, logical. In this there is a chance of side effects like pre and postoperative pain disease and sudden heart stroke nervous damage in brain., and other anesthesia related critical case.
Anesthesiologists are involved in around 90 percent of the more in surgical procedures that are carried ou under anesthetic each year in the United States. This involvement may include direct care of the patient or supervision of Certified Registered Nurse Anesthetists or Anesthesia Assistants, who also play a key role in the field. There were overall 45,000 anesthesiologists employed in the US and many more who were self-employed. Perioperative death rates likewise decreased amid this period, with less than 20 deaths per 10,000 persons of anesthetic in United States. Brazilian investigations indicated higher perioperative death rates, from 15 to 51 deaths for every 10,000 analgesics. The larger part of perioperative deaths happened in neonates, kids under one year, elderly patients, males, crisis surgeries, amid general anesthesia, and cardiovascular surgery took after by thoracic, vascular, gastroenterology, pediatric and orthopedic surgeries.
Global anesthesia drugs market:
The global anesthesia drugs market stood at USD 3.1 and is anticipated to catapult to USD 4.9 Billion by the end of 2022. As per the analysis of market Research Future, the global anesthesia drugs market is likely to grow at a CAGR of 3.7% over the forecast period of 2018-2022.
Anesthesia drugs are used during surgeries for loss of sensation to alleviate pain. The rise in global surgical volume across the globe has added to the growth of the global anesthesia market. There has been an increase in the number of surgical procedures to manage diverse health conditions such as cardiovascular diseases, malignancy, infections, injuries, etc. Such operative procedures require anesthesia drugs for pain management and induce high demand for anesthesia drugs. Moreover, post-operative pain management is also likely to contribute to the growth of the global anesthesia drugs market
.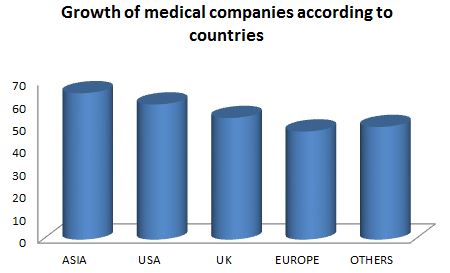 Value of Anesthesia Drug:
General Anesthesia Drugs Market Research Report 2018 provides key analysis on the market status of the General Anesthesia Drugs manufacturers with market size, growth, share, trends as well as industry cost structure. The study objectives are to present the General Anesthesia Drugs development in United States, Europe and China. Europe is the largest supplier and consumption market of General Anesthesia Drugs, with a production market share of nearly 38% and sales market share nearly 32%. The second place is USA, following Europe with the production market share of 20% and the sales market share over 28%. Asia is another important market of General Anesthesia Drugs, enjoying 24% production market share and 25% sales market share. The Global General Anesthesia Drugs market is valued at 6500 million US$ in 2018 and will reach 8070 million US$ by the end of 2022, growing at a CAGR of 2.7% during 2018-2022. The objectives of this study are to define, segment, and project the size of the general anesthesia drugs market based on company, product type, end user and key regions.
With this analyze worldwide Global General Anesthesia Drugs market, this research provides key statistics on the state of the industry is a valuable source of guidance and direction for companies individuals interested in the market.
Anesthesiology Universities in USA:
University of California, San Francisco
Johns Hopkins University.
Harvard University.
University of California- San Francisco.
University of Pennsylvania (Perelman)
Duke University.
Columbia University.
University of Michigan--Ann Arbor.
Stanford University
Anesthesiology Universities in Middle East:
·Arabian Gulf University, Bahrain
Al-azhar University, Egypt
Alexandria University, Egypt
Arak University of Medical Sciences, Iran
Medical University of Ilam, Iran
Islamic Azad University of Arak, Iraq
University of Duhok, Iraq
Oman Medical College, Oman
Kuwait University, Kuwait
Anesthesiology Universities in Turkey:
Gaziosmanpasa University
Gazi University
Marmara University
Ankara University
Hacettepe University
Yuksek Ihtisas University
Akdeniz University
Anesthesiology Universities in Istanbul:
AUC School of medicine
Cerrehpasa Dekanlik binasi university
Istanbul tip fakultesi dekanligl university
Istanbul tip fakultesi anatomi university
Anabilim dail university
Hospitals of Anesthesia :
Anadolu Medical Center
NP Istanbul Brain Hospital
Medicana Healthcare Group
Medipol Mega University Hospital
Istanbul Memorial Hospital
Koc University Hospital
Acibadem University Atakent Hospital
Acibadem Taksim Hospital
Liv Hospital
Florence Nightingale Istanbul Hospital
Kadikoy Florence Nightingale Hospital
Gayrettepe Florence Nightingale Hospital
Avcilar Hospital
Related Conference:
5th International Anesthesia and Pain Medicine Conference https://anesthesiology.conferenceseries.com/ August 10-11, 2020 Dubai, UAE
15th International Conference on Surgery and Anesthesia https://anaesthetist.surgeryconferences.com/ August 10-11, 2020 London, UK
International Conference on Advance Surgical Skills and Anesthesia, https://global.surgeryconferences.com/ October 26-27, 2020 Osaka, Japan
10th World Congress on Frontiers in Plastic Surgery https://plasticsurgery.surgeryconferences.com/ June 09-10, 2020 Singapore City, Singapore
World Congress on Cardiac Surgery and Medical Devices https://cardiacsurgery.annualcongress.com/ October 30-31, 2020 Vancouver, Canada
6th International Conference on Palliative Care, Hospice, and Wellness, https://palliativecare.healthconferences.org/ September 10-11, 2020 Prague, Czech Republic
6th World Congress on Anesthesia and Critical Care https://anesthesia.conferenceseries.com/ October 21-22, 2020 Paris, France
Related societies:
USA:
American Society of Anesthesiologists (ASA), World Federation Of Societies of Anesthesiologists, International Anesthesia Research Society, Society of Cardiovascular Anesthesiologists, California Society of Anesthesiologists, Washington State Society of Anesthesiologists, Society for Pediatric Anesthesia: [SPA], Australian Society of Anesthetist , Congenital Cardiac Anesthesia Society, Texas Society of Anesthesiologists, Society of Critical Care Medicine, Society for Obstetrical Anesthesia and Perinatology, American Society of Critical Care Anesthesiologists, Society for Computing in Anesthesiology, Ophthalmic Anesthesia Society, Society for Technology in Anesthesia.
Europe:
European Society of Anesthesiology, European Society of Regional Anesthesia & Pain Therapy (ESRA), Deutsche Gesellschaft fur Anesthesiology und Intensivmedizin (DGAI), Deutsche Interdisziplinare Verenigung fur Intensive- und Notfallmedizin (DIVI), Deutsche Gesellschaft fur Inner Medizin (DGIM), Society Italian di Anesthesia Analgesia Rianimazione e Terapia Intensive (SIAARTI), Catalans Intensive Care Association (SOCMIC), Hellenic Society of Intensive Care (HSIC).
Asia:
Japanese Society of Intensive Care Medicine (JSICM), Vietnam Association of Emergency Critical Care Medicine and Medical Toxicology (VNACCEMT), Chinese Society of Critical Care Medicine (CSCCM), Society of Intensive Care Medicine, Korean Society of Anesthesiologists, Korean Society of Critical Care Medicine (KSCCM), Korean Society for Anesthetic Pharmacology (KSAP).
Middle East:
Oman Society of Anesthesia & Critical Care, Bahrain Medical Society| Palestinian Society of Anesthesia & Intensive Care, Lebanese Society of Anesthesiologists: (LSA), Society for Pediatric Anesthesia, Egyptian Society of Anesthesiologists| Society of Pediatric Indonesia, Indonesian National Nurses Association (INNA), Indian Society of Anesthesiologists
To share your views and research, please click here to register for the Conference.
To Collaborate Scientific Professionals around the World
Special Issues
All accepted abstracts will be published in respective Our International Journals.
Abstracts will be provided with Digital Object Identifier by